Limited Edition Luxurious Fleece Throw - Major Arcana Collection - The Moon
Take the pulse on a situation to gain valuable insights from careful introspection.
Major Arcana Tarot Card | The Moon:  
🔮 Divinatory Meaning: The Moon is a card of illusion and deception, and therefore often suggests a time when something is not as it appears to be. Perhaps a misunderstanding on your part, or a truth you cannot admit to yourself.
Collection Description: 
MizDragonfly's Major Arcana Tarot cards present a new vision for illustrating the structure of human consciousness holding the keys to life lessons, karmic influences and symbolic themes influencing your soul's journey to enlightenment.
Authenticity:
Artwork © MizDragonfly |

 

Numbered Edition of 500. 
Throw details:
MizDragonfly's luxurious sherpa fleece throws make for an exquisite focal point in your home, your retail store or chic boutique hotel. With three different size options, throws can be large enough to cover a standard size sofa or single bed and can also serve in smaller size to pack a stylish punch on an area chair sure to keep you comfortably warm and stylish anytime of year.
Exquisitely handmade in the UK

13.27oz Plush velvet face & 5.90oz Sherpa fleece reverse

Three size options available

Throws for sofas, beds, area chairs
10 year guarantee on print, material and stitching
Throw sizes:

S | 39.3" x 28.7"
L | 57.1" x 41.7"
XL | 57.1" x 77.95"
Care instructions:

Sherpa fleece by nature is water repellent, and plush velvet is a fabric that needs a little pampering. After machine washing at 86°F and tumble drying on low, give the velvet face a brush to keep the fibers nice and soft. Do this every few washes when you feel the fibers stiffening slightly. Wash at 30°C / 86°F, low tumble dry heat, hang to dry, do not wring, low heat iron.
Shipping & Delivery
Exchanges & Refunds
Wholesale
Rentals
Contact Us
Shipping & Delivery
Exchanges & Refunds
Wholesale
Rentals
Contact Us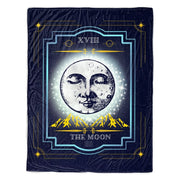 Limited Edition Luxurious Fleece Throw - Major Arcana Collection - The Moon